Plásticos del Segura - PDS Group - Our commitment to the environment
In PLASTICOS DEL SEGURA we are committed to environmental sustainability of our products
throughout their utility circle.

Our business philosophy is focuses on the continuous improvement and commitment to:

Energetic efficiency
Efficient raw material consumption
Production processes improvement
Optimization of flexible packaging solutions
Minimization of wastes and emissions

In PDS we are conscious of the importance of protecting our environment, so continuous reduction of environmental impacts caused by our activity is one of our main purposes.

That's why since 2017 PDS is granted with the certificate of environmental management international standards join in the ISO 14001 which is considered essential to the development and increasing of our company.

Besides that PDS also has PEFC certificate (Programme for the Endorsement of Forest Certification) which protects our forests and gives traceability to forestall products since their origin to their consuming. This certificate guaranties that all the forestall products we consume proceed from responsible managed forests conserving their multiple functions for present and future generations.
"Plásticos del Segura, more than manufacturers, packaging advisors. "

La Verdad Journal, February 22, 2009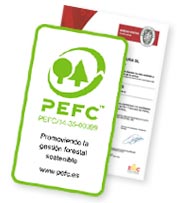 Certifications