PDS OVEN AND MICROWAVES .
PDS-OV
In base oven Products: (up to 250 ºC)

PDS-MW
Microwaveable Products
FILMS FOR FRESH AND CUT PRODUCTS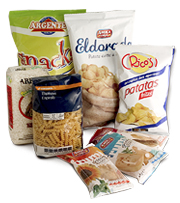 Meat - Pasta - Rice - Snacks - Nuts and dried fruit and crisps
Coffee - Chocolate, processed baked goods - Frozen and ice cream - Chemical Industry.
We produce the appropriated packaging.

Integrated service offering to cover our client needs.